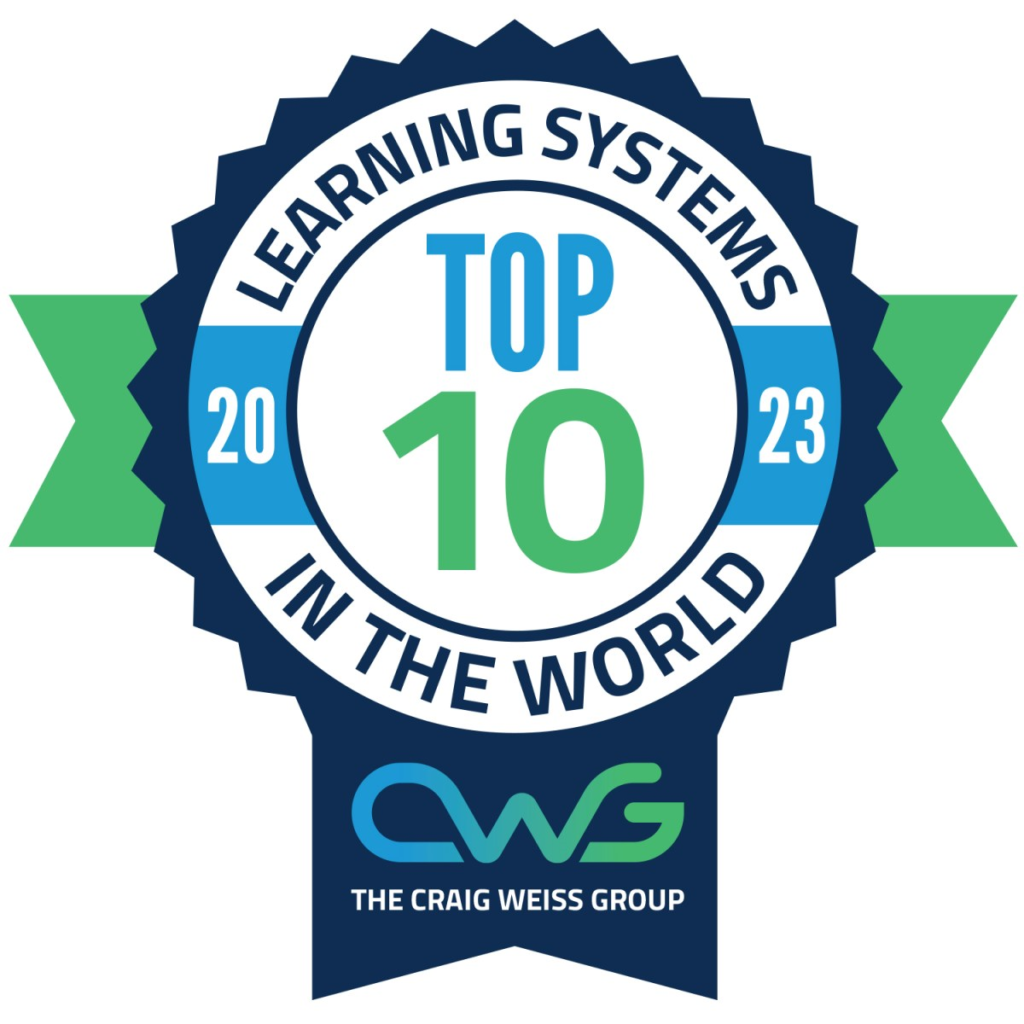 Chances are you aren't an expert in everything e-learning, which means that the sheer quantity of LMS (learning management system) vendors can feel overwhelming. You want to find a great system that will meet the needs of both your learners and administrators without paying for anything you don't need. Is that so much to ask?
Craig Weiss, founder, Lead Analyst, and CEO of the Craig Weiss Group grants your wishes with his list of the 20 best LMS solutions for 2023. Weiss creates this list every year, constantly updating the rubric he uses to better reflect changes in the broader e-learning industry. He enjoys insider access to each vendor's future plans, offers more than 20 years as an analyst in the field, and authors a blog read in more than 140 countries. Quite simply, you won't find a better source of information on learning platforms anywhere.
Of course, Weiss freely acknowledges that his top 20 list ranks vendors in general terms and an organization's specific needs might be best met by one that doesn't rank number one or even rank at all. If you want a personalized approach to your LMS search, Weiss created FindAnLMS.com as a free resource to help average people compare the best LMS vendors head-to-head with grades and insight from Weiss himself. You can create a free account on FindAnLMS.com right now to start comparing top options.
What goes into these rankings?
Weiss looked at multiple criteria when compiling his list of the top 20 learning systems for 2023 and quantified the most important criteria in a template where vendors could score a number of points for each element. Some of the most important factors in the scoring were user interface (UI) and user experience (UX) for learners and admins, metrics, reports, customer service, price, content curation capabilities, mobile performance (which goes much further than just being available on mobile), and the availability of a third-party content marketplace. Most of the scoring criteria are available for free in the Library. If a vendor's score was in the top 20, it made the list regardless of marketing budget, inclusion in FindAnLMS.com, or the total number of end users. If it didn't, better luck next year.
Importantly, no money exchanges hands as Weiss is working on his list and there are no bonus points for having a professional relationship with Weiss (many top vendors do). Weiss tries to include as many of the best vendors in FindAnLMS.com as possible while excluding subpar alternatives, but there's a vendor in the top 10 that isn't included. Similarly, Weiss pays little attention to the acronyms in a vendor's marketing materials. If you're a learning experience platform (LXP), talent development platform (TDP), or a generic learning platform, Weiss still considered you.
The exercise is designed to remove as much subjective bias as possible and highlight the best vendors for 2023. Since the list is forward-looking in nature, a system somewhat lacking today but preparing a big update early in 2023 will outperform a decent system without the same potential for improvement. There is no tie-breaking methodology either, so systems with identical scores are shown to have tied below. Bearing that in mind, here are the 13 LMS solutions that cracked Weiss's top 10:
10: Juno Journey
Juno Journey checks all of the mandatory boxes including a modern UI/UX for learners and admins, great analytical tools, and advanced content curation capabilities with playlists backed by AI and machine learning. Shortcomings include the lack of a mobile app and an inability to schedule reports for automatic email to stakeholders.
9: NovoEd
NovoEd comes the closest to a true cohort learning experience in the e-learning industry today with strong UI/UX and good metrics. However, they could use better analytics and administration tools.
8: PluralSight
PluralSight is unique in that the entire platform focuses exclusively on tech skills. It lacks the functionality needed for compliance training or employee onboarding but makes up for it with a sim angle to help learners practice and an outstanding UI/UX. Metrics are good too, but there's currently no way to track continuing education units (or CEUs).
7 (tie): Absorb LMS
Absorb offers a good UI/UX for learners and admins and scored very well for overall functionality. Absorb Create LI is an outstanding course authoring tool, Amplify provides free marketplace content, and Analyze provides superlative data visualization tools. Unfortunately, all three are add-ons that aren't included in the base package, hurting Absorb's overall score.
7 (tie): Eurekos
Eurekos has a low price point that causes some to dismiss it as a budget system, but its capabilities shouldn't be underestimated. Both learners and admins get a good UI/UX, metrics are good, and there's a great mobile app. The company provides outstanding customer support, and the platform is constantly improving. Weiss named Eurekos as the second-best learning platform for customer education in 2022.
6 (tie): D2L
D2L is the definition of a combo system because it combines outstanding functionality for the customer education market with solid features for employee training. The mobile app also exceeds expectations. Sadly, the UI/UX needs a refresh and you have to pay for course authoring tools.
6 (tie): Docebo
Docebo delivers excellent UI/UX for learners but the UI/UX for admins is merely average. Fortunately, the system offers strong overall functionality, mid-tier skills development (better than the industry average), and a fantastic third-party marketplace. Unfortunately, you need three add-ons (Discovery, Coach, and Share) to get the most out of it and Extended Enterprise features are locked behind a paywall as well.
5 (tie): Biz Skills
Biz Skills was the first vendor to completely map content to job roles to skills, helping learners see the benefits of course content for themselves. The included metrics provide great data visualization tools and both learners and administrators will appreciate the UI/UX. Weiss would like to see more metrics in the future, and cohort-based learning is on the roadmap for 2023.
5 (tie): Fuse
Fuse leverages "learning communities" in innovative ways that could easily turn into cohort-based learning with a few tweaks. Knowledge sharing in particular is already really strong. Analytics include advanced data visualization tools at no extra charge, and the UI/UX is intuitive enough for most learners to figure out. Fuse offers a solid mobile experience as well.
4: DeGreed
The key strengths of DeGreed include skill development, content curation, and playlists. DeGreed Intelligence is an add-on that takes analytics to the next level, but the metrics in the base package aren't bad either (Intelligence is definitely better). A very large content marketplace also stands out, but the overall functionality is relatively lackluster.
3: Cornerstone
Cornerstone is the industry leader in skill development and recently attached a much-improved UI to everything skills-related on the platform. The learner UI is the best it's ever been, and Cornerstone scores well in the NexGen department despite being considered by many as an outdated legacy system. There are also wonderful individual metric widgets and a great third-party marketplace called Content Anywhere. The biggest letdown is that the metrics look like something from Microsoft Excel in 1999.
2: Learn Amp
Learn Amp offers a unique UI/UX for learners and admins, but it works well. Metrics are solid as well with strong data visualization tools that tell a story, skills frequency charts, and top skills sorted by role or topic. Unfortunately, there's no mobile app and Learn Amp provides mediocre content curation capabilities at best.
1: Thought Industries
Weiss named Thought Industries as the best learning management platform for customer training in 2022 for its outstanding multi-tenant portals called Panoramas and really good UI/UX and metrics, and the product only became better with a new feature called Helium. Helium gives stakeholders unparalleled control by separating the front end from the back end entirely, giving learners a completely customized experience for the first time. Templates are available to expedite the editing process, but Weiss notes that developers who can code are essential to making the most of this game-changing feature. Those developers could also make you a mobile app as TI doesn't offer one but provides the tools to create it.
Compare the top e-Learning names on FindAnLMS.com today
Every organization has unique needs, so the names above might not fit your specific needs even though they score well on Weiss's rubric. Craig Weiss curates the vendors on FindAnLMS.com personally, making it easy to compare the best names while avoiding poor LMS solutions. Most of the solutions on Weiss's top-20 list are included, allowing you to learn more about them than what's provided above. Why not create a free account on FindAnLMS.com today to get started?