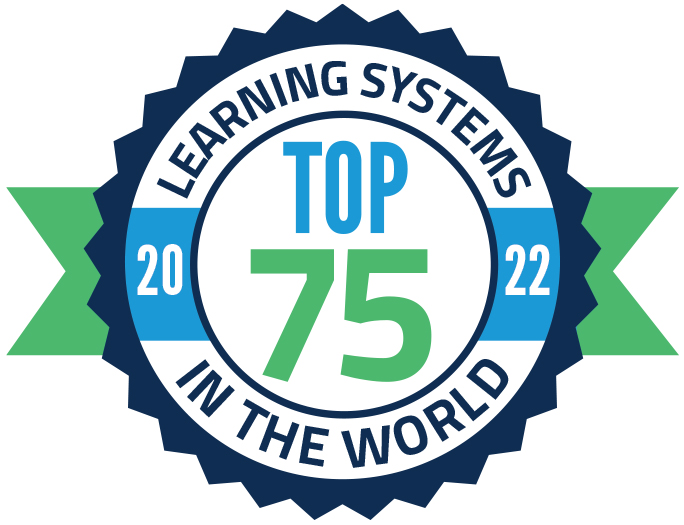 As CEO and Lead Analyst for The Craig Weiss Group LLC, no name offers more credibility in the e-learning space than Craig Weiss. When Weiss announces his top 75 learning systems for 2022 and 2023 based on his extensive expertise and access to "behind-the-scenes" information like what future updates might entail, you have to stand up and take notice.
However, many of those 75 systems exemplify the segmentation taking place throughout the e-learning industry. Organizations have diverse needs based on their industry, scale, and their unique learners, with customer education (including partner and association training and abbreviated CE) demanding very different feature sets than employee training.
If you're looking for a customer education platform, Weiss's top 75 can still help you if you focus on the right features. You can also create a free account on FindAnLMS.com to compare the biggest names in the e-learning industry with exclusive insight straight from the expert himself. FindAnLMS.com is a unique tool designed to help anyone research learning management systems like a pro.
What features are essential for customer education?
While employers can mandate participation in their e-learning programs, customer education is voluntary. Therefore, customer education platforms need to have a slick UI (user interface) and UX (user experience) to make a positive first impression. You also have to show your partners that you value their time, which means just-in-time learning and mobile-friendly content that can be accessed anywhere.
Course authoring tools are key as well, as you cannot count on third-party courses to do a good job of explaining the unique benefits offered by your products and services. Selling content is an important revenue driver for many organizations, making e-commerce capabilities much more important for customer training than employee training. Furthermore, multi-threading (or the ability to set up custom portals for each learner while you manage everything from a central hub) is a must-have in the CE space.
Which systems in Weiss's Top 75 work well for customer training?
Weiss classifies each system in his top 75 as employee-focused, customer-focused, or a "combo" actively seeking clients in both categories. Most systems are combos that lean heavily toward the employee side, but the following systems (listed in no particular order) are worthy of consideration in the customer education market:
SAP Litmos
SAP Litmos is an agile customer education platform ideal for enterprise-level organizations. It offers robust video assessment and digital coaching tools, AI-powered playlists to help learners find content relevant to them, and skill management all under a sleek UI. Potential downsides include relatively basic e-commerce capabilities and a pedestrian course authoring tool.
LearnUpon
LearnUpon offers a tight UI/UX designed to keep learners coming back for more, essential when you cannot assign courses to learners who could benefit from them. It isn't as scalable as some of the other options on this list, though, and it lacks specific metrics you'd like to see in customer ed.
Raven360
Raven360 is consistently under the radar but specializes in CE. More specifically, the platform is designed to turn customers into product experts who will not only get more out of your products but generate new leads through their enthusiasm. It offers integrated analytics and custom branding options.
LearningCart
LearningCart offers strong e-commerce capabilities including the ability to offer coupons and discount codes, accept multiple currencies, and bundling. The system also supports Continuing Education Units (CEU) tracking to help you identify at a glance who is up-to-date on your latest offerings.
Brainier
Brainier LMS is another under-the-radar platform with a nice UI/UX for both learners and administrators and tight functionality. It offers white labeling (meaning your training materials will bear your organization's logos and colors), and the content looks great on mobile devices.
Knowledge Anywhere
Knowledge Anywhere is yet another under-the-radar platform with strong e-commerce capabilities and multi-tenancy. Knowledge Anywhere also includes Video Role-Play (VRP) capabilities that allow for dry runs before salespeople get in front of leads.
Eurekos
Weiss named Eurekos as his runner-up in his 2022 Customer Education Bracket for good reason. The system's course authoring tool is intuitive enough for beginners while still offering advanced features for more experienced admins. One of the few downsides is that its mobile app is only average.
Thought Industries
Thought Industries exclusively focuses on the customer education market, meaning that its built-in analytics display the exact metrics you need to quantify the impact of your campaign. It also offers outstanding multi-threading, with each portal called a "Panorama." TI doesn't have a mobile app at all, but Weiss still named it the winner of his Customer Education Bracket for the second year in a row.
D2L Brightspace
D2L provides outstanding digital coaching and video assessment tools and combines them with an extensive skills management feature set, so all of the basic tools needed for success are here. Unfortunately, the analytics it provides are only average.
Absorb
Absorb LMS by itself isn't that impressive but becomes one of the most powerful customer education platforms on the market with all of the optional add-ons. Create LI is a great course authoring tool, and Absorb Analyze offers all of the metrics you'll ever need. It would be nice if the core LMS included these features though.
Coursestage
Coursestage offers a built-in course authoring tool allowing for the creation of interactive video experiences, learning games, and assessments via easy drag-and-drop functionality. The platform also supports personalized learning paths, multi-tenant capabilities, a mobile app, and provides superlative customer service.
Docebo
Docebo focuses on AI-based content curation, allowing learners to see all of the courses they need and none they don't. It has one of the best mobile apps in the industry and offers several key add-ons with direct CE applications. Learning Analytics helps you quantify the success of your customer education program while Learning Impact drives learner engagement.
SkillJar
SkillJar claims to focus exclusively on the CE market but has several employee-focused clients, leading to confused messaging at times. Still, the system offers everything you would expect from a customer education platform, including strong performance on mobile, a great UX, and powerful e-commerce options.
Intellum
Intellum is the best customer-ed-focused platform for skills bar none, giving it a clear niche. The platform is more than just skills though as it offers an excellent mobile app, strong UI for admins and learners, strong CE metrics, and outstanding customer support. The biggest drawback is that they require all clients to pay for at least 500 learners.
TopClass by WBT Systems
TopClass has been around for over 20 years and yet they continue to evolve with the times. The latest version supports continuing education credits and custom certifications, an attractive UI, custom-branding, and global e-commerce capabilities.
GyrusAim
GyrusAim offers strong metrics and reporting capabilities, excellent customer service, and great assessment tools so you'll always know that a salesperson is ready before you put a lead in front of them. It's especially powerful for organizations looking to bridge the gap between learning and job performance.
Find the right system for you on FindAnLMS.com
Every vendor above deserves consideration for all of your customer education needs, but which one is right for your organization? You can create a free account on FindAnLMS.com to start comparing them with other top names head-to-head backed by grades and takeaways from Weiss himself!